2018 Reading Challenge: Part 3
by
kipress
For my "favourite" books of 2018, I can't just pick one thing from each genre – that seems a bit too artificial for how haphazard my reading was last year. Instead, I've just highlighted the books that I'm still thinking about the most, even months after reading them. Call them my most memorable books of 2018 (most of which didn't come out in 2018).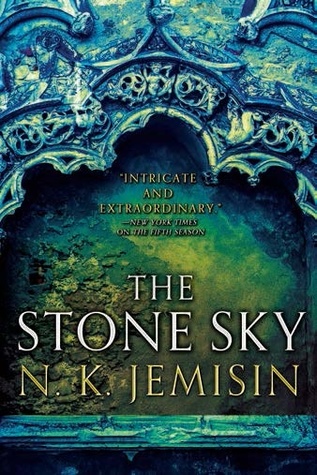 I can't not mention the third installment of N.K. Jemisin's Broken Earth trilogy, The Stone Sky. While I was the most blown away by the first installment, the rest of the trilogy didn't fail to deliver. It's tremendously inventive and intricately drawn far-future science fiction by a Black woman. She has won umpteen major awards for this trilogy, and she doesn't really need a recommendation from me. But here it is anyway.
I'm still thinking about Mariko Tamaki and Jillian Tamaki's YA graphic novel This One Summer. It's a haunting coming-of-age tale that takes place at the lake, "this one summer." Girls and women of different ages each change in different ways, and the pubescent protagonist learns—with resistance, even dread—what she's up against becoming a woman. Definitely YA, not kids'.
I read a few Hope Nicholson/Bedside Press comics anthologies this year, and the one that stood out for me was Gothic Tales of Haunted Love, which is just what it sounds like – spooky, gory, supernatural doomed romances, by a variety of artists and authors in a variety of styles. The stories featured many LGBTT* and BIPOC characters, breathing life into a genre that could otherwise come across as old-fashioned and stale. My daughter was so taken by the presence of this book in my house that I had to write a guide for her telling her which stories she could read and which were not age appropriate. (My daughter is obsessed with comics and I have to watch every one that I bring home.)
In cross-genre poetry/memoir/essay, I finally got around to reading Maggie Nelson's Bluets. I recognized it as poetry, myself, and only realized that some people categorize it as essays upon reading some reviews. I've never believed in genre myself, so its cross-genre quality just makes me love it more. A book about a colour is a beautiful idea, and blue is the best colour, right? (Weirdly, I also read Anne Carson's Autobiography of Red this year, which isn't about a colour, only it sort of is….)
One of the literary classics I picked up this year was Jean Rhys's Wide Sargasso Sea. I have to say that what stays with me is more an impression than a specific element of craft or thematic takeaway, though I know it has many; for me, this book was an immersive experience that I can still kind of sink into in my mind.
The most important book I read this year was Gregory Younging's Elements of Indigenous Style. If you are a writer or communicator in this country, you should read this book. It gives practical and clearly explained, organized, and argued advice for best practices when writing about Indigenous subjects or working with Indigenous writers.
I adored Daisy Hay's book The Young Romantics, and it's probably what gave me the biography bug. I've read that it was her PhD thesis in another form, which surprised me because the prose is so lively and the story so riveting (not something one can usually say about a dissertation). In it, she argues that the archetype of the lone, individualistic, tortured writer—an image invented by the Romantics—was never really true, certainly not by the second generation (the "young" Romantics), and probably not even for the first. She interweaves the stories of Leigh Hunt, Byron, the Shelleys, Keats, and a number of peripheral figures in order to show how they all interacted with and even depended on each other for inspiration, debate, intellectual stimulation, camaraderie, and support. (She also illustrates handily how the women of the circle paid the higher price for their nonconforming ways.) I am officially obsessed with the Romantics again, and if anyone can recommend which is the best biography of Byron, I'm gonna put it high on my list for 2019.
Last, probably my favourite book of 2018 was another one that needs no recommendation from me: Hilary Mantel's Wolf Hall. It won the Booker, it was made into a miniseries, blah blah blah. These are historical characters I never would have predicted I'd have gotten so attached to. Thomas Cromwell, of course. And Henry VIII! I really missed him when I finished this book. This was one of the behemoths (about 600 pages) that I read this year, but it was worth every page. I don't know if I'm going to be able to commit to reading the next two installments in 2019… maybe just part 2, Bring Up the Bodies. And, oh, maybe I'll get the miniseries from the library, too.
Onward to 2019, my friends, and happy reading!